Our competitor's practice is open to all levels of competitor's in Ballroom and Latin-American dancing who want to work hard in a friendly environment that encourages the competitive style.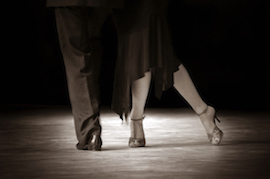 Our social night is an ideal place to wind down at the end of the week, to practice what you have learnt in your dance lessons and is also a great opportunity to get to know others over a drink from our bar.
We are proud to be able to offer one of the largest sprung dance floors in the East Midlands allowing you more than enough room for swing and power allowing practice for bigger competitive floors possible.
Our structure may vary slightly, depending on demand, however the format is usually one hour Ballroom one hour Latin-American.
We also frequently run mini competitions within our practice that allow dancers to build up their stamina by dancing all 5 dances of each style for 1:30 minutes in length without stopping, simulating a competitive heat.
Every Tuesday | 8:00pm - 10:00pm