Practice your routines, make new friends and have a fantastic evening at our Ballroom & Latin-American Social Night!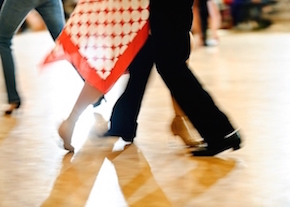 Our social night is an ideal place to wind down at the end of the week, to practice what you have learnt in your dance lessons and is also a great opportunity to get to know others over a drink from our bar.
The music is a mix of Ballroom and Latin-American at tempos that suit everyone from seasoned dancers to beginners/improvers wanting to rehearse routines.
If you are interested in having dance lessons but would like a sneak preview, this would be a good evening for you to attend. Our staff are always on hand to help you with the basics and answer any questions you might have.
Every Friday | 8:00pm - 10:30pm