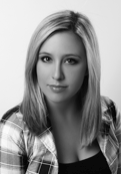 Magdalena Pietrucha is a dance instructor, choreographer and educator(teacher). She holds a Master of Education (specialisation in Social Psychoprophylaxis) which she studied at The University of Rzeszow. She also holds a qualification as a Dance Sport Instructor which she achieved at the Academy of Physical Education and Sports in Gdańsk.
She started dancing at the age of 8 and continued for the next 12 years, taking part in many competitions in Poland, Slovakia and Ukraine to a very high standard.
Over the last 10 years, Magdelana has worked as a dance teacher and choreographer; first in AKSEL dance school for 7 years (2003-2010) and later in Swing Dance Studio for 3 years (2010-2013 - co-owner) and has taken part in Swing Studio Shows (Brazillian Samba, Bollywood, Burlesque).
She worked with several age groups, and taught at all grades, specialising in Latin-American.
Magdalena also teaches Solo Latino, Salsa and Burlesque classes as well as lessons for wedding groups, wedding first dances and choreogprahy for shows.
Magdalena will be starting classes for Polish people looking to dance shortly so please contact us if you are interested.

Magdelana is also available for private lessons, wedding dances and show choreography by arrangement.