The Latin Inspired dance fitness workout. Join a ZUMBA Fitness-Party TM and stay in shape the fun way! ZUMBA uses music and steps from Latin and International dance styles and turns them into a cardio-based, effective workout.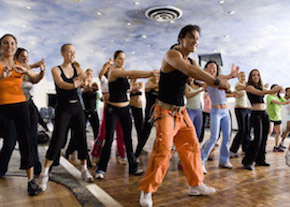 Zumba uses different rhythms and flavours from all over the world including Merengue, Salsa, Cumbia, Reggaeton, Quebradita, Samba, Flamenco, Hip-Hop, Bollywood, Russian Folk, Gaelic and much more!
When you come to a class, all you need to bring is:
Comfortable clothes. Please see our "What to Wear" page.
Lot's of energy. We will get you partying right from the first class!
Big smiles! This is very important!
A towel - You will sweat so you may want to bring a towel!
and that's it!
There is no need to book! All you need to do is let us know that you are a Zumba newbie when you arrive and we will assist you to sign in. We do ask that you provide us with some basic details on the day so that if we need to contact you for any reason regarding the class, we can get in touch,
We look forward to partying with you soon!
Classes run every Wednesday between 7-8pm.