Blackpool holds a very special place in the hearts of ballroom dancers. There isn't a World Champion or Strictly star who hasn't Waltzed their way across the Empress Ballroom floor on their route to success. This is why The Regency Dance Centre was very excited to take a group of students to compete in the NATD (National Association of the Teachers of Dance) Medalist of the Year Grand Finals.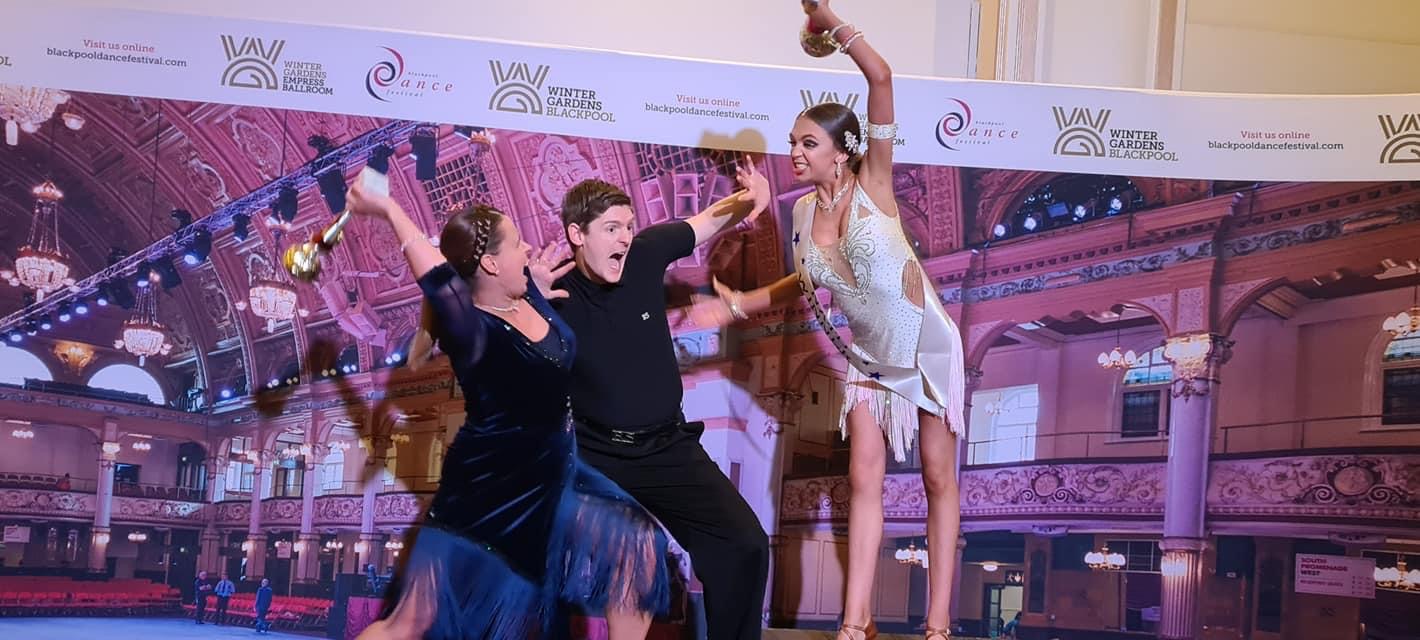 On Friday 8th July, we set off for Blackpool ready for a weekend of competitions for the NATD Medallist of the Year Grand Finals. It seemed like a long time ago since the dull November day when the student's competed at the Festival Hall in Kirkby to secure themselves a place in the prestigious final. Getting to dance on the Winter Garden's Ballroom floor is a massive achievement in itself.
It was very different weather that greeted us in Blackpool for the final as the sun shone upon competitors arriving, with outfits and dance shoes full of anticipation for the weekend ahead. We enjoyed a group meal to relax, before getting an early night so we were fresh for a weekend of dancing. The Medalist of the Year competition spanned over two days with our students competing on both days from early morning until the evening.
---
Day 1
On Saturday, day one of the competition, we saw the children compete in their Juvenile (U12s) and Junior (U16s) Latin events. Every competitor did themselves proud, giving great performances with lots of energy and enthusiasm, which made them a joy to watch.
Our students treated us to two intense Paso Dobles, a fantastic Samba, and an enthralling juvenile Rumba that commanded your attention.
Early evening saw a change of pace as the Regency adult competitors took to the floor for their Ballroom events. Again we saw some accomplished dancing from everyone, including a terrific Tango, a lively Quickstep, and two fabulous Foxtrots. We finished day one with several trophies and lots of smiles.
---
Day 2
Day two of the competition switched genres; this time the children started the day with their Juvenile and Junior Ballroom dances, whilst the adults performed their Latin-American dances. The children all looked beautiful on the floor and danced with grace and confidence. We watched them dance some upbeat Quicksteps, a fiery Tango, and a fantastic Foxtrot. It was clear that they had worked very hard and they all deserved their place on the floor. The smiles suggested that the children loved dancing in the Empress Ballroom and loved their time in Blackpool.
The Adult Latin events nicely rounded up a great weekend. We enjoyed watching two more Rumbas (including one by myself!) which demonstrated great control and musicality and a fast-paced Jive that got everyone clapping along. Everyone bought their best dancing feet to the floor and we finished on a high with some excellent dancing and impressive placings.
---
The Regency had some great results over the weekend as trophy cabinets are getting filled up at the competitor's homes. We left the competition with National Champions, Vice-Champions, as well as several finalists and semi-finalists. Everyone should be extremely proud of how they danced and it was a pleasure to dance with every one of them, as we love enabling our students to push their boundaries, gain new experiences and achieve their goals. Most importantly we like to ensure that they all enjoy dancing and have fun.
We would like to thank everyone who attended the competition over the weekend, the parents who give so much time to help their children realise their dance dreams, and everyone whose cheering and support means so much to those competing. We appreciate you coming on this journey with us and it was a pleasure spending time with each one of you. We enjoyed it so much and can't wait to do it all over again soon.
Thanks again, we couldn't be prouder of our Regency Team.
---
If you are inspired by this article and would be interested in competing in teacher student events or couple events, please don't hesitate to send us a message or talk to your teacher so we can provide you with more information on how to get involved!